"Who shall separate us from the love of Christ? — shall tribulation, or distress, or persecution, or famine, or nakedness, or peril, or sword?"
"As it is written, For thy sake we are killed all the day long; we are accounted as sheep for the slaughter.  Nay, in all these things we are more than conquerors through him that loved us. For I am persuaded, that neither death, nor life, nor angels, nor principalities, nor powers, nor things present, nor things to come, Nor height, nor depth, nor any other creature, shall be able to separate us from the love of God, which is in Christ Jesus our Lord." Romans 8:35-39
Friends, we all, as sheep, have gone astray, all to our own way, but God has laid on Christ the iniquity of us all.
As humans we go astray like sheep go astray, we drift, we wander, we fall from God's decency and order. In our experience we fall from grace, fail grace, or frustrate grace — all biblical truths. We fail grace for bitterness and a loss of spiritual focus. We fall from grace by not negotiating Satan's roadblocks which keep us stifled. We frustrate grace by re-erecting our former self-government, laws and regulations. Then we settle for a second-best kind of Christianity.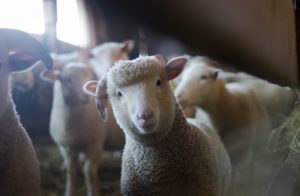 Let's look at sheep: "The animals prefer grazing on grass or legume vegetation that is short and fine, though they will also consume high, coarse, or brushy plants as well. They graze plants closer to the root than do cattle, and so care must be taken that sheep do not overgraze a particular range. Sheep are basically timid animals who tend to graze in flocks and are almost totally lacking in protection from predators."  Britannica
Some gleanings from this article:
Sheep

 

graze, and so live for eating. We also matriculate to the food/temporal provisions.
We may overdo it. We need to be monitored.
Timid beings also, we must have the protection of closeness and shepherds.
So, why does Romans chapter 8 tell us we are, " …accounted as sheep for the slaughter?"
Is it because in order to be "more than a conqueror," the sheep-nature in us must die? No, I reject this notion since, "sheep" typifies our simple humanity.
Instead, sheep exist for what they provide us; wool, milk, and leg of lamb.   And, as sheep-like creatures, God strengthens our usability too;  and grooms us for others' benefit.
This is the point: where does our maturing value lie ? For others, for others, for others.
But unlike our animal counterparts, a human must go beyond instinct and take hold for himself and defend where his or her value lies.
Brethren, God alone gives value, but to bear food and cover others becomes our value-sphere.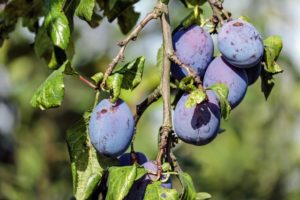 A tree analogy serves us also. We receive nurturing and grow. Mature, we bear fruit. Although the caring input toward us holds us in great value and we hold it such, it develops more and more till our value shifts to giving it out.
O please see your value, brother and sister, for the nurture of others. Please see your need to hold fast that value. When we slip into our poor self-images, by all means get some nurture, but let others be your motivation. It is "for our sake" that our life moves toward the slaughter for others to dine upon. When we lose our life we find it.
Finally, "Except a corn of wheat fall into the ground and die, it abideth alone: but if it die, it brings forth much fruit. "
Friends, our great value is in dying to live, never let the devil or any take away the value of it. It's what God did in sending His Son and what Jesus did in giving His life. All was for us. love ya
Born in Pittsburgh Pennsylvania, Pastor Sliva went to Bible college in Massachusetts at the Stevens School of the Bible in !982. He and his family moved to Baltimore in1987 to be a part of Greater Grace World Outreach. From there, he served in Prescott, Arizona, and Indianapolis, Ind. Ordained upon his return to Baltimore in 1995, Pastor Sliva was afflicted with brain cysts in the late 90's and stayed at home base until his recovery in 2002. He then assisted with ministries in Cincinnati and Pittsburgh before resettling in Baltimore due to his son's sudden illness and death. Pastor Sliva is a colon cancer survivor. He has been part of the Pastoral Care Team since 2008 and leads the Grief Share group at Greater Grace Church. Read more from Pastor Sliva on his blog
Healing at the Cross.
Latest posts by Tom Sliva (see all)