Not always, but occasionally, "over the river and through the woods to grandmother's house we go," sadly detours us onto unfamiliar routes. Sometimes these alternate routes are well marked and eventuate easily to the more familiar paths — But then, maybe not. We wish for a safe and clearly defined trail, one with landmarks along the way. However, this day we go down a 'never-before' gone road, and to add to the suspense, it is turning twilight, soon to be fully dark. Apprehension bids us: should we stop, ask for directions, pray, or all of the above? We may find ourselves just short of panic.
Let's pause.
As much as we disdain the thought of these real-life detours, they occur.
Jesus teaches his disciples in  Matthew 7:13-14:
"Enter ye in at the strait gate: for wide is the gate, and broad is the way, that leads to destruction, and many there be which go in thereat:  Because strait is the gate, and narrow is the way, which leads unto life, and few there be that find it."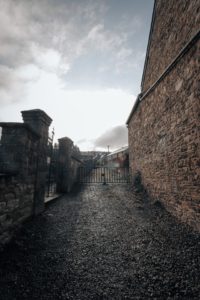 First, we are to "go in" through the narrow gate. JFB says it's a "triumph over all our natural inclinations."  Peace and relaxing familiarity represents the other gate — the broad. Jesus teaches us to embrace, welcome, abide, in a place which we can barely fit. An endowment of grace from God enables this beginning or it cannot truly happen.
Frankly, all of Christ must be present in our heart and mind.
Just as the shepherds, at the birth of Christ, drew near to see the babe after their "rude awakening,"
so also we come close to our blessed Savior, Comforter, and Guide in our distress. We must enter in.
Many go the ways of the broad; the road of panic, the way of insecurity, the options of anger, frustration, bitterness or blame can combine with self-rejection, depression or feelings of inadequacy. These folks become instant victims for worldly solutions. The low road of alcohol, drugs, illicit sexual activity, etc. couple with the "good" streets of psychological explanations, worldly wisdom, sentimentality and etc, to sufficiently take a person to destruction and ruin. Everyone seems to be going that way.
Proverbs 16:25  teaches "There is a way that seems right unto a man, but the end thereof are the ways of death."
Friends,
Proverbs 16:2 also tells us  "All the ways of a man are clean in his own eyes; but the Lord weighs the spirits."
Oh God, there is a way that seems so right!
Lets think again about that narrow gate.
"It is a strait gate, for we must stoop, or we cannot go in at it; we must become as little children; high thoughts must be brought down." Matthew Henry
O yes, the impossibility of this, yet it leads to life. O yes, the need of grace, the need for mercy, the need for compassion, caring, God's unmitigated love and assurance of forever. All of it, all of Him — in our place of greatest embarrassment, in our broken state, in our time of greatest need. But,

He came!
At Bethlehem He came. Immanuel  came, to save His people from their sins. Beloved, He came then to show us He will come again now — at the narrow gate, at your heart's greatest time of desperation, as you go through the perilous waters, the fires of trial and temptation —
Isaiah 43:2  beautifully says, "When you pass through the waters, I will be with thee; and through the rivers, they shall not overflow thee: when thou walk through the fire, thou shalt not be burned; neither shall the flame kindle upon thee."
Yes, He will meet you, welcome you with open arms, embrace you with His loves and be ravished with thy beauty.
In closing, we may say, "what beauty does He see in me?" The beauty of a seeking heart for Him.
Psalm  45:10 -11says " Hearken, daughter, and see, and incline thine ear; and forget thine own people and thy father's house:
"And the king will desire thy beauty."
love ya     Have a blessed Christmas!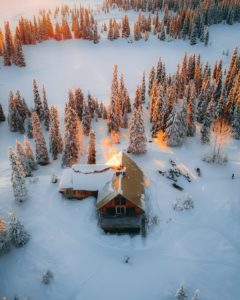 Latest posts by Tom Sliva
(see all)