In Revelation 5 a Lamb prevails worthy to open the seven- sealed scroll. This Lamb had been slain, an obvious reference to Christ Himself, who rose from the grave.
In Revelation 6 the seals are one by one removed from the scroll, thus opening it.
At the opening of the first seal appears a white horse. The horseman held a bow and a crown — he went forth conquering.
At the next opening, the second, came a red horse. This rider was enabled to take peace from the earth, to kill one another. He was given a sword.
The third seal was opened and came a black horse, he carried a scale of balances. A shout, "A quart of wheat for a shilling, and three quarts of barley for a shilling; but do not injure either the oil or the wine."
A fourth seal and fourth horse, pale, had a rider named "death." "…authority was given to them over the fourth part of the earth, to kill with the sword or with famine or pestilence or by means of the wild beasts of the earth."
When the fifth seal broke there came a complaint. Christian martyrs voiced loudly over the amazing delay of God's execution of justice on evil perpetrators, for them. They must wait a short time longer — more martyrs would be killed.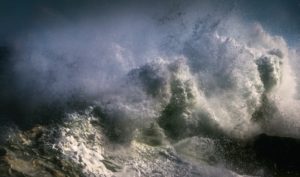 The sixed seal brought a flood tide of destruction. An earthquake opened an unprecedented explosion of natural effects, a gargantuan tumult of nature — all became dark, stars fell as figs from a tree blown in the wind, mountains shook, men ran to the caves to hide.
So the prevailing Lamb, slain and found worthy, having judged sin by taking it on Himself, now unleashes a chain of judgments — toward a  race of people who ignore the offer of eternal salvation purchased for them by the blood of this Lamb.
It consists in wrath. The wrath of God.
Friends, the longsuffering of God has reached its peak. The units of wrath are full up.
Exodus 34:6, Numbers 14:18  and Psalm 86:15 repeat the theme, "The Lord is longsuffering, and of great mercy, forgiving iniquity and transgression, and by no means clearing the guilty, visiting the iniquity of the fathers upon the children unto the third and fourth generation. But thou, O Lord, art a God full of compassion, and gracious, longsuffering, and plenteous in mercy and truth."
But some "despise the riches of his goodness and forbearance and longsuffering; not knowing that the goodness of God leads them to repentance" (Romans 2:4).
These verses exhort every believer toward the same longsuffering. Friends, as long as we live here on the earth, we participate in "delayed judgment sentencing." God, having judged sin at it's core,  winks not at the unfounded rebellions of deceived men and women,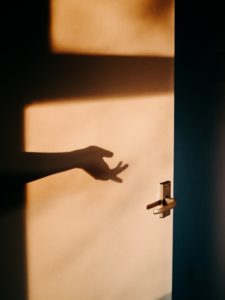 But with hopes, that the longsuffering of God will lead men to repentance.
God waits to be gracious — stands at the door of men's hearts and knocks — even allows drastic circumstances, men reaping what they have sown.
God has placed all under sin, that He might have mercy on all. He is not willing that any should perish.
And we also represent this longsuffering:
Colossians 1:11  "Strengthened with all might, according to his glorious power, unto all patience and longsuffering with joyfulness."
Colossians 3:12  "Put on therefore, as the elect of God, holy and beloved, bowels of mercies, kindness, humbleness of mind, meekness, longsuffering;
Finally, as an example of God's longsuffering we have the flood.
1 Peter 3:20 teaches, " …they formerly did not obey, when God's patience waited in the days of Noah, while the ark was being prepared, in which a few, that is, eight persons, were brought safely through water. "
O God patiently waited, for Men to repent. Noah built an ark with a promise of eventual calamity by flooding. Noah was a preacher of righteousness.
His message, same as ours —
as many as received Him, believed on the Lord Jesus Christ, opened the door of their hearts, welcomed Him in … to these the promise of eternal life. Salvation without works or merit, a gift of God.
God waits, and waits, and waits. But soon He will not wait any longer. Let's keep telling it. Love ya
Latest posts by Tom Sliva
(see all)