The many-sided Christmas Story carries with it many surprises.
Surprise: to strike with wonder or amazement especially because unexpected.  websters
Here is a story about surprise:
I once overslept. I was running around my apartment worrying because there is nothing scarier for me than being late for work. I called a taxi, got dressed, put all the necessary stuff into my bag, closed it without even looking into it, took my wallet, and ran out. It didn't take much time to get to work because I was hurrying the driver along at every traffic light. At last, I was in the office. Hurray! When I opened my bag, I saw the 2 yellow and scared eyes of my cat looking at me. She seemed to be just as shocked as I was. brightside.me
Surprises can be good or bad or sometimes bitter-sweet. God's surprise goes this way:  In a time when He was forgotten, not expected, given up on; then appeared the angel. "Be it done unto me according to thy Word."  came the teen-mother's reply. (The sweet.) But then the bitter; we must flee or the baby will be killed.
 Ecclesiastes 8:6-7 teaches:  "Because to every purpose there is time and judgment, therefore the misery of man is great upon him. For he knoweth not that which shall be: for who can tell him when it shall be? "
Jesus, rest assured, is touched by the feeling of our misery, because He was tempted In all points. Surprise, He became a man like us, He identifies with us, he knows our infirmity. He helps right now, but then, in a surprise, He creates a personal touch; just for you, He comes when you least expect Him.
God surprises. This makes Him God. Frankly He knows the precise time of least expectation, He appears often, then, to illuminate to us the love story of Christmas.
"Thy time was the time of love." Ezekiel 16
This short poem surprised me this year. Love ya
The Burning Babe

As I in hoary winter's night stood shivering in the snow,

Surpris'd I was with sudden heat which made my heart to glow;

And lifting up a fearful eye to view what fire was near,

A pretty Babe all burning bright did in the air appear;

Who, scorched with excessive heat, such floods of tears did shed

As though his floods should quench his flames which with his tears were fed.

"Alas!" quoth he, "but newly born, in fiery heats I fry,

Yet none approach to warm their hearts or feel my fire but I!

My faultless breast the furnace is, the fuel wounding thorns,

Love is the fire, and sighs the smoke, the ashes shame and scorns;

The fuel Justice layeth on, and Mercy blows the coals,

The metal in this furnace wrought are men's defiled souls,

For which, as now on fire I am to work them to their good,

      So will I melt into a bath to wash them in my blood."

      With this he vanish'd out of sight and swiftly shrunk away,

      And straight I called unto mind that it was Christmas day.
Merry Christmas!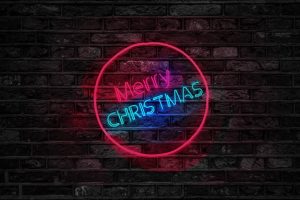 Latest posts by Tom Sliva
(see all)